On Monday we were selected as a Bronze recipient of the 2016 American Business Award for Most Innovative Company of the Year with under 100 employees. We know nothing about the American Business Awards but we applied anyways. We've dug into the data on the past winners of this award to understand how good or bad we really did.
Before we get to that let's talk about why we were selected for this possibly prestigious award. Two years ago when our founder left the SEO agency he worked at he wanted to fix one of the biggest pain points clients appeared to have, not understanding just what the agency had done and how that led to the results they were seeing. To try and solve this When Winner Winner Chicken Dinner started we began by putting all of our clients into our Basecamp. While we love using Basecamp it wasn't really the solution to the problem and doesn't really help clients understand the connection between our work and the results they were seeing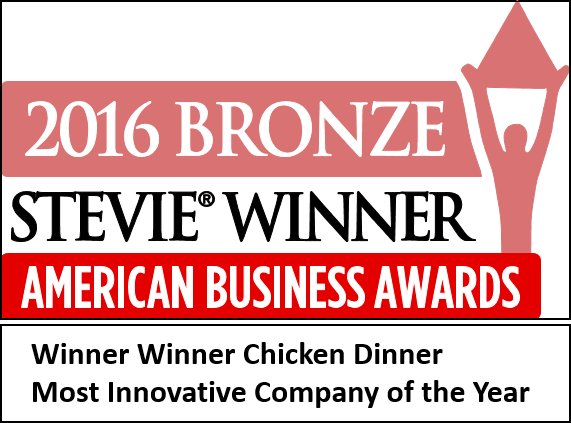 Joe also created an SEO process we adhere to that he calls Linear SEO. Linear SEO takes our work for a client in a sequential order from one area of SEO to the next to complete things that can be done and left alone, at least for a little while – think like writing meta descriptions or adjusting the image alt and title tags on a biography page, increasingly focusing and higher value work and repetitive work as it goes along it's path.
We took this concept as our inspiration for the solution to our problem. This lead us to develop a Roadmap of work we were recommending for a client so they could see the from the beginning to the end of a campaign what we intended to do. We then took that Roadmap and placed it into a Google Drive Spreadsheet for each client, which they were then invited to view. As we complete work our team doesn't just mark it as done in Basecamp but records the date of completion in this Roadmap document as well. As time went on we continued upgrading this document adding milestones, objectives, and goals and tying those to the success for each one of our client's campaigns. Over time we began to notice something wonderful, our clients were rarely asking what was being done on their accounts and their anxiety about SEO work and their results was greatly reduced.
Earlier this year we began to automate much of the document to reduce the labor required to update it and give our team more time to focus on client success. The automation added another new feature, now when a milestone / objective is reached the client is sent an email and all related tasks are color coded with it. When the client gets the email they are told the date the milestone was hit, if it was hit before or after we thought it would be, how much before or after our target date, and they are given a link to see the tasks in our Live Roadmap that led to reaching the milestone, objective, or goal that was achieved.
The American Business Award for Most Innovative Company Under 100 Employees
Right, so that's a lot about our internal system, but does this award hold any meaning?
The Stevie Awards have been around for 14 years, according to their Wikipedia page. In 2003 the Washington Post ran an article which stated the founder of the Stevies wants them to become as renowned as the Oscars, Grammys, or Tony awards. It seems the founding goal was to build a business awards program that would help keep CEO's from being unethical and focused on profits at any cost and instead focus on things that would win them recognition at the Stevie Awards. A noble endeavor, but clearly (hi 2008 economic collapse) that hasn't worked.
This sounds great, but the Stevie Awards are setup a little different than the awards their founder hopes it will become as well known as. Each award category gets 1 Gold winner, then various winners of Silver and Bronze awards. This is in stark contrast to the winners of say the Oscar for Best Actor, of which Leonardo DiCaprio was nominated 3 times before finally winning in 2015, where there is only 1 winner of the award.
We didn't win Gold, which does suck, but like the Olympics getting on the podium is still pretty awesome. Except one thing, we're not the only Bronze finalist on the podium, we share it with 4 other companies/ That made us ask is that normal? Did we still beat other nominees?
The American Business Awards doesn't tell you how many businesses applied, nor do they tell you if there's a cap on the number of winners of each award type. The award we applied and won Bronze for is the Most Innovative Company Under 100 Employees, which has only been offered since 2012. Previous Gold winners of this award include; SynCardia Systems, Newlight Technologies, RealityWorks, RiseSmart, and this year's ezCater.
Never heard of them? Us either, but remember it's companies with less than 100 employees so most are likely to be unknown to the masses. To understand the prestige of such an award we should start by looking at who these past winners are. SynCardia invented an artificial heart but won the award for the portable power supply they made for their artificial heart to allow transplant patients to leave the hospital while awaiting a transplant. Newlight Technologies invented and patented a way to make the first carbon-negative plastics. Reality Works won for what appears to be various innovations in their business processes and product development including their educational materials for Welders. RiseSmart created a semantic search engine that leveraged social media contacts to help out of work people find possible jobs faster. Ok, most of that stuff done by the Gold winners is freaking cool. So the Gold award in this category should definitely carry some presitige with it.
Is it possible then that the Stevies simply hand out the Silver and Bronze awards as two levels of a participation award just for applying and Gold goes to the super inventive and innovative companies? Let's check the data from their website:
Looking at the available data it would seem that fewer companies win the Silver than the Bronze and the Gold winners are capped at 1 per year. This doesn't really help answer our question but it does provide some clarity into the process of the Stevies that may not have been super clear earlier on or at all.
The way we're to understand the judging process, it goes like this: you apply –> qualified applicants go to a panel of judges while unqualified ones… actually we're not clear on that –> then entries are scored by each judge (scale of 1-10) –> and then grouped into the Gold, Silver, and Bronze levels which are presented at the awards ceremony and on the website. While we can't definitively answer our question about if this is a form of participation trophy, we can say that it's probable that the Bronze award is given to companies that qualified but scored below a set bar when being judged, for example below a score of 5. Which, to be honest, would suck to know. That doesn't mean it's the end of the road. One company, RiseSmart, was awarded 2 Bronze Awards and a Silver Award before finally winning the Gold Award in this category last year before disappearing from this list of recipients this year.

Reality check time. Let's cover what we learned and face the brutal truth. The Gold award in this categroy has been associated with some really cool, super-innovative, small businesses. The Bronze award though, isn't exactly laden with prestige and it's even possible that we scored the lowest in the field of applicants for this particular award.
But hey, we were given some killer feedback by the Stevie Award judges which we'll definitely be using and it's our belief that "winning" this proves our commitment to innovation on behalf of and for our clients. We may not have won Gold this year, but who knows what next year holds.