Earlier this year when Facebook announced they would start showing local news more in the News Feed it made us wonder if Facebook would begin clamping down on Pages that used sharing content from other Pages as a growth tactic as well. On June 28th of this year Facebook stopped allowing Fan Pages to 'boost' posts which had been shared from other pages, another sign that Facebook would prefer natively uploaded content on pages rather than shared content.
DOWNLOAD THE FULL RESEARCH PAPER HERE
We decided to investigate and used two pages in our Explore Media network that had the same posting methodology and posted similar content at similar frequencies. We used our Dallas and Fort Worth local pages, which both gain significant reach in their markets. Each Page had been posting 1 piece of 'viral' content at 10:30 a.m. in the morning daily, either sharing a video from a larger Page such as Unilad or uploading a meme we created. At either 6:30 p.m. or 7:30 p.m. in the evening each Page also shared a news story about the region the Page was covering from a local news source (i.e. Dallas Morning News, Star-Telegram, Dallas Observer, Fort Worth Weekly). This posting methodology of making a viral post in the morning and sharing a link to a local news story in the evening had been ongoing for over 2 years.
For the longest time the viral content shared from other Pages brought in a majority of the reach for both Pages, dwarfing the reach of natively uploaded content and local news links. Starting the week of the April 1st through the 7th (week 14) this pattern began to change and by the week of May 6th through the 12th (week 19) the shared viral content on these Fan Pages had lost 92.96% of its reach. During that same period natively uploaded content also lost reach being down by 31.46% at Week 19, however, by week 22 natively uploaded content had increased 233.07% and shared content's reach was still down heavily having lost 96.13% of the average reach per post.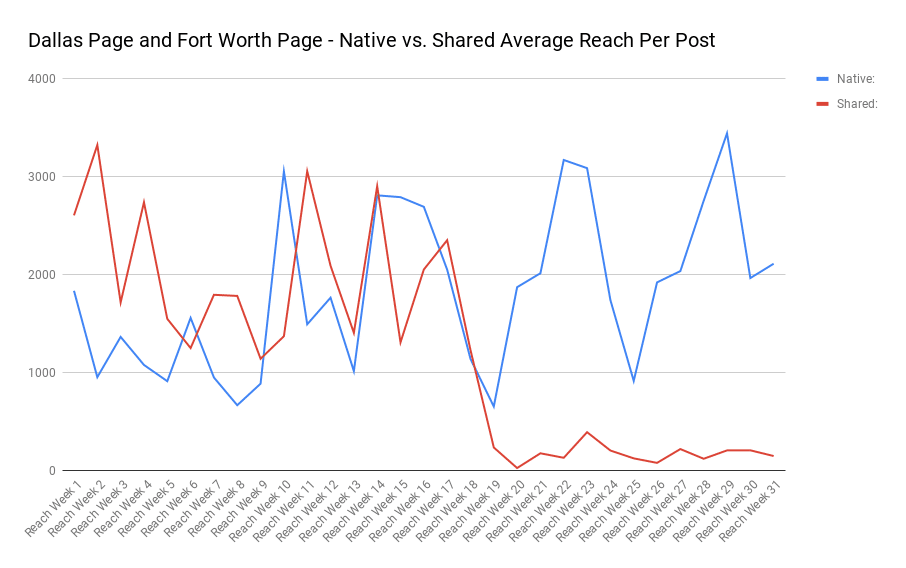 We had expected to see a dramatic or at least noticeable rise in reach for posts that were links to local news content in this data as well. Unfortunately, we didn't see that as readily as we believed we would in both markets, though we did see it in the data from our Fort Worth page, the reach from our Dallas page to local news stories stayed relatively flat and the average reach per post when both pages were combined has ups and downs more indicative of the popularity of different stories and not the type of content posted.
Takeaways
There is limited space in the News Feed for Pages content and for the past few years Facebook has been eroding away the reach of Page owners and giving that reach to things like Groups, family and friend connections, and unfortunately those split-in-half video memes. Based on this research we believe Page owners may be able to increase average reach per post by doing 2 different things:
1. Creating and uploading unique content that is meant to entertain, not sell.
2. Sharing local news links that are relevant to your industry and your geographic area if those stories are likely to gain shares/comments/reactions from your audience.
Caveats
1. It is possible the detected changes in Average Reach per Post were due to other factors we are not aware of.
2. It is possible that since local links were posted exclusively in the evening this negatively impacted their Average Reach per Post.
3. We did boost posts during this time of both varieties, and noticed at the beginning of the year we boosted shared viral content more than links to local news stories. Boosts of native and shared content were similar in nature on both pages until boosting of shared content was terminated in late June.
4. On the Fort Worth page we were more likely to have 'boosted' a local news link than on the Dallas page.
We know these caveats may have skewed the data in our study and are working on follow up tests to determine their impact on the News Feed (i.e. does boosting local news frequently in the short-term lead to more long-term organic reach even when boosting is stopped?, Will posting local news links in the morning increase their reach compared to the evening?).
Unfortunately since we are unable to boost shared content on Facebook it is no longer viable to experiment with it.
Did Facebook Keep Their Promise About Local News?
In short, no.
Facebook announced on March 26th, 2018 that they would be increasing the visibility of local news sources in the News Feed and it looks like there's a chance that may be happening in select markets and/or for select local news media websites, but there is not enough data yet on our pages to determine for sure this is happening and impacting the News Feed.
Definitions
Pages or Fan Pages – We are referring to pages created on Facebook to distribute information or to represent a business or brand of any kind. These are not accounts and are treated differently by Facebook than personal user accounts.
Native or Natively – We are referring to content hosted by a specific Page or Fan Page and not shared in a post from another Page or Fan Page. Examples include making a post from a local news link, uploading a video, or uploading a photograph or meme to the Page. While the content in this test was uploaded using the native utility on Facebook Business Manager or the Facebook Pages mobile application, it does not mean using software such as Hootsuite or Buffer would alter the results.
DOWNLOAD THE FULL RESEARCH PAPER HERE
If you're a researcher an you'd like access to the full data set please contact us